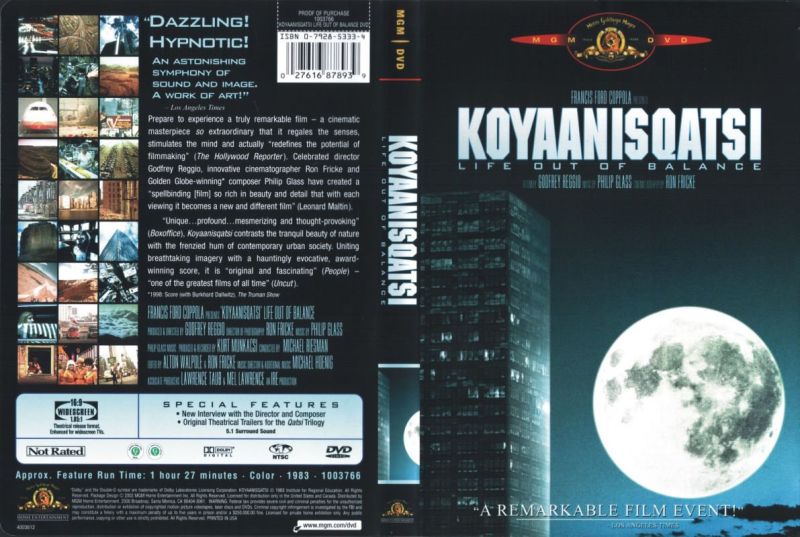 I first watched the film Koyaanisqatsi as an undergraduate student at Mizzou, in the company of other students, in the context of a student Philosophy Club meeting. And the film flat-out blew my mind and rocked my world. I have no idea if any of the others present at that viewing were as deeply affected as I was, but today, just over two decades later, the film, and also its almost literally divine Philip Glass musical score, remains a touchstone philosophical-cinematic text that continues to act with a transformative tug upon my psyche.
A good deal of the enduring (obsessive) focus here at The Teeming Brain on the dystopian underside and apocalyptic overtones of life here in the postindustrial wonderland of the great American technopoly stems from two sources. One of these is the collective totality of a mini-library of books and films, both fiction and nonfiction, that have powerfully impacted me with their explorations of this heady convergence point of subversive and destabilizing spiritual, psychological, artistic, political, societal, economic, and technological reality. The other is Koyaanisqatsi, standing independently on its own rarefied plane of import. Not coincidentally, several of those books have been cited as direct inspirations by Godfrey Reggio, Koyaanisqatsi's director and mastermind.
If you're unfamiliar with the film, or if perhaps you're not aware of the fact that you may already be familiar with parts of it — as with (to name just one prominent example) the wonderful use of two pieces of its music during the Dr. Manhattan origin sequence in the Watchmen film a few years ago — here's Wikipedia's synopsis, which is excellent:
Koyaanisqatsi, also known as Koyaanisqatsi: Life Out of Balance, is a 1982 film directed by Godfrey Reggio with music composed by Philip Glass and cinematography by Ron Fricke. The film consists primarily of slow motion and time-lapse footage of cities and many natural landscapes across the United States. The visual tone poem contains neither dialogue nor a vocalized narration: its tone is set by the juxtaposition of images and music. Reggio explains the lack of dialogue by stating "it's not for lack of love of the language that these films have no words. It's because, from my point of view, our language is in a state of vast humiliation. It no longer describes the world in which we live." In the Hopi language, the word Koyaanisqatsi means "unbalanced life". The film is the first in the Qatsi trilogy of films: it is followed by Powaqqatsi (1988) and Naqoyqatsi (2002). The trilogy depicts different aspects of the relationship between humans, nature, and technology. Koyaanisqatsi is the best known of the trilogy and is considered a cult film.
You can also watch the trailer. I mean it seriously. Stop reading and watch this now:
On May 15 The Chronicle of Higher Education published a brief and fascinating essay that brought this all back to mind. In "'Koyaanisqatsi' in China," Jonathan Levine, a freelance journalist and a lecturer in American studies and English at Bejing's Tsinghua University, explains how a student approached him during his first semester there to ask "if we could watch a movie — something about 'American culture.'" Levine points out that this request automatically raised an important and difficult question: "If you were given the opportunity of showing some of China's future leaders one movie that encapsulated the American essence, what would it be?"
He ended up showing them Koyaanisqatsi — "probably not the first movie you would think of," he quite rightly points out. ("Probably not even in the first 100," he quite rightly adds.) But the choice was a savvy one. "With no spoken dialogue," he writes, "Koyaanisqatsi is a difficult film but a universal one, free of the barriers of context and language that inevitably divide native and non-native English speakers. Accompanied by Philip Glass's powerful, minimalist score, the scenes take viewers on a sensory roller coaster, rollicking through a slide show of human achievement and folly. The film is a tabula rasa, from which viewers can draw their own conclusions."
Levine's reflections on the experience for both him and his students indicate that it was an excellent choice for exploring the depths of the film and its meaning for both America and now China, which has been racing for decades to emulate America's model of material success. He writes, "Though the film was shot entirely in the United States, by an American director, the similarities to modern China are so striking as to be inescapable. The Brutalist architecture of the condemned Pruitt-Igoe housing project, in St. Louis, could have been airlifted from the outskirts of Beijing. The throngs bustling to and fro — the inhabitants of one of China's manifold concrete jungles. Income inequality, pollution, degradation of public infrastructure, check, check, and check."
His closing paragraphs draw out the meaning of the film not only for his Chinese audience but for me personally, and in a shockingly direct way that echoes exactly what I have said to myself, minus the specific references to China, as I have lived with this film for the past 20 years:
Rather than being dated, the haunting imagery of Koyaanisqatsi has become more valuable with time. It now demonstrably encapsulates both the United States and China. As you may have already guessed, my aim in showing the movie was not a dry exploration of American culture, but to raise fundamental questions among China's brightest minds about the direction of their own country. It is not a warning, but more a checkpoint. The Chinese word for America is "Meiguo," which literally means "beautiful country."

My goal with Koyaanisqatsi was not to smash this myth, but to remind those who watch the film that America's road to development and prosperity was not without speed bumps. It was and is riddled with points of tensions, contradictions, and — in short — many things that are not so beautiful. I hope that the movie will not just provide a snapshot of the United States but will cause my students to question their own nation's model of development. Should China's highest aspiration be merely a Sinified simulacrum of all things Western? China has embraced the Western paradigm of development, but is there perhaps another way?

In the words of Mark, "What shall it profit a man, if he shall gain the whole world, and lose his own soul?"
To drive home the point, here's what may be the film's most haunting passage: