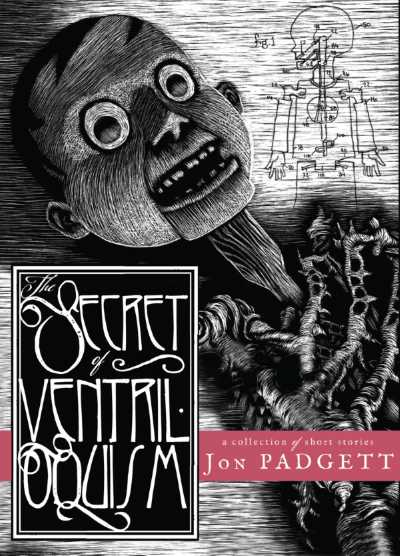 As I have mentioned in the past, my good friend Jon Padgett's debut horror fiction collection The Secret of Ventriloquism, featuring an introduction by me, is a very special piece of work. It has been gratifying to see how events in the several months since I last talked about it have borne this out. Rue Morgue Magazine selected it as the Best Fiction Book of 2016. Michael Calia praised it in The Wall Street Journal. It has gained additional reviews and enthusiastic endorsements from the likes of Paul Tremblay, who describes it as "a horror revelation," and Weird Fiction Review, where reviewer Adams Mills asserts that it is "a collection that begs to be read as a whole, and then also to be revisited past the first reading."
If this whets your appetite, be advised that right now, for a limited time, the Kindle edition can be downloaded for free. (After reading it, I think you might also find that you want to buy a physical copy.) [UPDATE 3/26/17: Alas, this offer has now expired.]
To whet your appetite even further, here's the complete text of my introduction.
* * *
Introduction to
The Secret of Ventriloquism by Jon Padgett
S. T. Joshi has famously argued that the truly great authors of weird fiction have been great precisely because they use their stories as a vehicle for expressing a coherent worldview. I would here like to advance an alternative thesis. I would like to assert that one of the characteristics of great weird fiction, and most especially weird horror—not the sole characteristic, of course, since weird horror is a multifaceted jewel, but a characteristic that is crucial and irreducible in those works of the weird that lodge in the reader's mind with unforgettable force and intensity—is a vivid and distinct authorial voice.
Can you imagine Poe's "The Fall of the House of Usher" without the sonorous narrative voice that speaks from the very first page in tones of absolute gloom and abject dread? Can you imagine Lovecraft's "The Music of Erich Zann" minus its voice of detached, dreamlike trepidation tinged with cosmic horror, as generated by the author's distinctive deployment of diction and artistry of prose style? Or Shirley Jackson's The Haunting of Hill House without the striking establishment of voice in the classic opening paragraph ("No live organism can continue for long to exist sanely under conditions of absolute reality; even larks and katydids are supposed, by some, to dream…"), which then develops over the course of the novel into a sustained tone of mingled dread, loneliness, and melancholy? Or what about Ligotti's "The Last Feast of Harlequin" without its measured tone of fearful discovery foregrounded against an emotional backdrop of desolate inner wintriness, as delivered in the narrative voice of an unnamed social anthropologist investigating a strange clown festival in an American Midwestern town? Each of these stories would be not just diminished but fundamentally altered—neutered, hamstrung, eviscerated—by the removal of its distinctive voice, which, vitally, is not just the narrative voice of the individual story but the voice of the author expressing itself through the environment of that particular work. Read the rest of this entry →